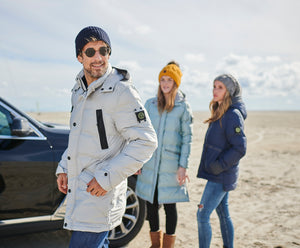 N 53.706767 // E 7.137423
Wasserdicht und Windabweisend
2010 - HOW IT ALL BEGAN
"Sailors & Brides" was originally the brainchild of two British yachtsmen and an Australian entrepreneur who were sailing around the world. In Annapolis on the east coast of America, they met an old marine jacket manufacturer.


2011 - THE IDEA
They then decided to create their own ultimate outdoor product. The combination of traditional tailoring and modern functionality was well received and was initially only distributed to yacht clubs and close friends.
2012 - FROM THE SEA TO THE MAINLAND
In 2011, a Hanseatic clothing entrepreneur was so enthusiastic about the product that he decided to take up the idea and market this jacket beyond the sailing sector on a larger scale for all kinds of outdoor, travelling and urban lifestyle. SAILORS & BRIDES WAS BORN!
Öffnungszeiten
UNSERE STORES

Auf Bösselhagen 14
31515 Wunstorf 
Do - Fr, 14:00 - 18:00
Saturday, 10:00 - 16:00